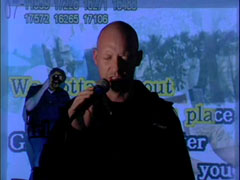 We Gotta Get Out of This Place [M.River] (2007, 15.8MB, 3:15 min)

Hashpipe [T.Whid] (2007, 17MB, 3:23 min)
From the bastard progeny of Marcel Duchamp & the Marx Brothers,
the splendid & singular MTAA, comes Karaoke Death Match 100.
Here's the thing:
Artist collaborative M.River & T.Whid face off in the most brutal performance art smack down of the new millennium.. Karaoke Deathmatch 100! This alcohol-fueled blood feud features 50 rounds of sing-along fury (taped live over an 8-hour period with hardly any pee breaks). No Carpenters hit too cheesy, no heavy metal lyric too trite for these teleprompter warriors to hurl in a battle to the end. Who will emerge victorious? Only YOU can decide.
It's great stuff & clearly one to follow closely -we'll be returning to them here 'ere
close of play in 50 days. Just want to sneak in, though, that actually I found this
quite ahem..er.. moving: – the sheer effort invoked in the
act of singing; T.Whid's strange shambling captive bear dance & M River's weird
but somehow totally appropriate sudden & violent changes of dynamics.
A bit like Bas Jan Ader falling over, there's something more here than originally
meets the eye & ear, & it's a lot human & a bit wonderful.