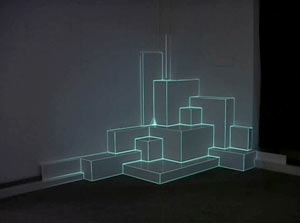 Augmented Sculpture (2007, 11.5MB, 3:48 min.)
"This project is focused on the temporary quality of space, investigating space-time
not only as a three dimensional environment, but as space in transformation For this purpose
two layers are produced that explore different aspects of the space-time reality.
The first stage of this project has been developed during Interactivos? 2007, at Medialab Madrid."
Work by Pablo Valbuena.