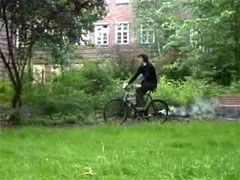 Michel de Broin – Keep On Smoking (2006, 8.2MB, 2:51)
Absolutely hilarious video for a fantastic piece of interactive art.
I thought I was going to end up with a statement about
smoking cigarettes with I came across Michel de Broin's
Keep On Smoking.
But completely unrelated, de Broin says this:
As an alternative to petrol, this custom-made bicycle
transforms kinetic energy produced by the cyclist into smoke.
The will to power is a renewable energy resource that can be
recuperated by a power generator supplying enough electricity
to operate a smoke machine. The work is the result of two
coupled machines; the one human is productive and the other
machine, consumptive. This coupling of machines produces smoke,
a waste energy that is liberated freely in the atmosphere.