Search results for "jimpunk"

Electronic Village Galleries Talk 6th May 2011 (2011, 164MB, 32:14 min)
Gosh -where to start?
Awhile back we were approached to assemble a selection of
work from DVblog for screening at a gallery in the UK.
This reel then took on a bit of a life of its own, showing
at the museum of club culture in Hull, UK and at the Buffalo Literary Center, New York.
(of course 'a life of its own' is completely unfair – it got shown because real
human beings -Kerry Baldry and Martha Deed respectively – put work into making it happen.)
Then Kate Southworth, who is running a brilliant pilot project
involving showing digital work in village halls in Cornwall, in the extreme
south-west of the UK, asked if I'd be interested in curating something
and the reel immediately sprang to mind..
To cut a long story short it was shown at the second EVG event at
Zennor village hall on 7th May and I went down to talk (at some
length, I notice with a certain degree of horror)
about digital video on the net, DVblog in particular and about the
artists involved in this selection.
Here, for better or for worse, is my talk, filmed, heroically, given my
restless delivery style, by Delpha Hudson.
If you'd like to reconstruct the programme for yourself it's below, with links to
the original DVblog posts.
And if you'd be interested in screening it, please get in touch!
(We also have a reel of silent work which has been screened with
musical accompaniment and is available for more such outings.)

Rilkes Tongue (2006?, 73 MB, 1:44 min)
Alan:
"something to stare at
This is a few years old, but hasn't been put up; the dancer is Maud
Liardon, either Foofwa or I held the camera and made the video and
effects reminiscent of G. Moreau come to life, the church is in the
Swiss Alps, Rilke was buried behind it, murals of tormented hell,
angelic world of Elegies, we were transported"
…Alan Sondheim is one of the artists whose work you can see if
you can get to Nottingham, UK this Thursday – Sunday, 11th-14th Nov, 12-5 pm, in the first offline
appearance by DVblog, where a 45 minute program of work first posted here
will be continuously screened at The Wasp Room, part of Tether Studios.
Details:
Tether Studios,
17a Huntingdon Street
Nottingham
NG1 3JH
tel: 07729124336
mail@tether.org.uk
Artists featured:
Kerry Baldry, Steven Ball, Robert Croma, Rupert Howe, JimPunk, Donna Kuhn, Morrisa Maltz, Millie Niss, Giles Perkins, Sam Renseiw, Alan Sondheim, Nathaniel Stern, Liz Sterry, Eddie Whelan
Also – if you're reading this & are interested in screening this program -we have both PAL and NTSC
DVDs available. Just mail us!

DEATHDISCO aphrodisiskratch remix (2006, 16.8MB, 25 sec loop)
Neat remix from 2006 by jimpunk of abe linkoln's DEATHDISCO.mov,
posted here yesterday.
The sample is aphrodisiskratch by DJ QBert.
More jimpunk on DVblog.

T®1p±Ⓨ(|┐╱▒◤△▽///╱ ╱ (2010, 12MB, 2:37 min.)
By jimpunk, master of the remix & the ma$h-ups.
From – triptych.tv.
jimpunk does the loop on Pacino.
more jimpunk on dvblog.

Resexed Pistols (2006, 6.4MB, 2:06 min)
"another remix of the sex pistols piece you posted a while ago..
i had been working on it awhile ago then i went on vacation… and when
i saw the valdez piece, i felt someone had been searching my harddrive.
then i saw the piece (which is great) and realized that they're quite
different, even though they tread in the same arena… i don't know why so many
of us have been attracted to redoing the same clip (remember jimpunk did
another remix), but here is my mine."
from Antonio Mendoza – Mr. Tamale.

chocolate reign (2007, 600k, 10 sec. loop)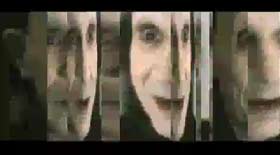 lost highway jam (2007, 500k, 4 sec. loop)

push up worm (2007, 600k, 10 sec. loop)
From hipdom's answer to the three tenors,
a little taste of triptych.tv
Fearless (& peerless) trailblazers; continuing innovators:
abe linkoln
antonio mendoza
jimpunk

heroine (2006, 1.3MB, 21 sec loop)

nato1 (2006, 422KB, 20 sec loop)
Christ! -if it's not nailed down he'll remix it.
jimpunk does the biz on dvblog.
The whole glorious sequence here.
We're not worthy… we're not worthy…

Anarchy (Jim Punk) (2006, 8.2MB, 52 sec loop)

reresex (Abe Linkoln) (2006, 3.5MB, 16 sec)

Anarchist (Szpakowski) (2006, 1MB, 26 sec loop)
Pistols remixes, from JimPunk,
Abe Linkoln & ..er.. me.
Send us yours & we'll post 'em.

Subculture: wr4th_o{-g*d_m:x (2007, 16.6MB, 1:26 min)

JimPunk: & j0hn malk°v:ch ):: (2007, 10.2MB, 59 sec)

Abe Linkoln: 3P150D33 (2007, 6.89MB, 1:12 min)
Remix/collab/podcast running May -Sept, commissioned by
the excellent Turbulence & featuring 3 masters of the genre well known to dvblog regulars
[Subculture being Antonio Mendoza's n0m de rem:x]
Exhilarating & educative too…do yourself a favor & check out the whole project…