Search results for "alan sondheim"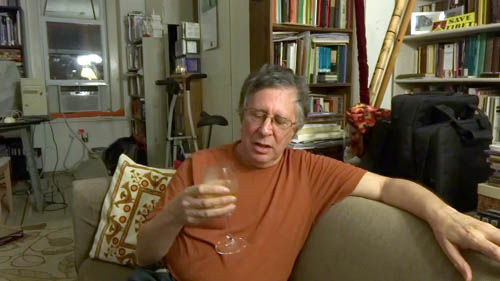 Last Wine (2013, 96MB, 2:50 min)
Anyone who has followed DVblog for any time at all will know how much we
admire & value the work of Alan Sondheim.
He commands a huge range of technique and tone in both his writing and moving
image work. At one point of his compass there is the fiercely cerebral; at
another a rich humour & at yet another a sense of fellow feeling with, a
striving to understand some of our most puzzling and yet everyday feelings
and states of mind.
Things we've all encountered in relationships with family, friends and strangers.
This is a particularly moving piece, the more so because of its uncertainty of tone
– its enactment of the sad awkwardnesses of human interaction.

Kelvin Helmholtz Clouds (2008, 5.6MB, 24 secs)
It's funny – even when Sondheim does picturesque there's
something very defiantly personal about his take on it.
Here it's the way that the sequence of images just occasionally
looks as if it hadn't been thrown together at random but
most of the time it does.
And this does not matter -in fact it's an asset -there's a shamanic
urgency to everything Sondheim does which is wholly engaging.

Disappearing Body (2012, 44MB, 1:02min loop)
Time marches on but some things don't change and one of these is
our unbounded admiration here for the work of Alan Sondheim.
This is a perhaps a lollipop in comparison to some of his work but
it is, as always, rich and beautiful and lodges both in the conscious
mind and in our dreams.
Says Sondheim:

Mark Esper's Two-Tone Enlightenment work forms the basis
of this short video. The screen presents shadows as positive,
not negative; infrared light forms the projection source
which is read and interpreted by revolving LEDs.
The body disappears. In the video, I imitated the effect
using video echo in an attempt to erase the body almost
entirely. Mark's piece is brilliant, and the video is a
byproduct; I take advantage of the illumination to create
a somewhat clumsy series of movements.
Thus the mechanical is made virtual, and the virtual made
mechanical; such reversals form the core of theory povera.

me (2008, 12MB, 1:06 min loop)

slbarrier (2008, 33.1 MB, 4:32 min.)

elo1 (2008, 46.3 MB, 5:26 min.)
Three from 2008. As always, utterly watchable and quite unparallelled.
PS I'm going to post beneath a text piece by Sondheim from around the
time the movies were made, not because it has any direct
relevance to them (though of course it has relevance)
but because it's great & a further demonstration, if such were required,
of his range of technique and vision…
she can MOVE FRUIT FROM ONE KIND OF TREE TO ANOTHER
she can MAKE OTHERS FALL ASLEEP OR WAKE AT WILL
she can MAKE FIRE BLAZE FROM WEAPONS
she can FLY THROUGH AIR
she can SEE THROUGH WALLS
she can TRANSFORM A CAVE INTO A PALACE AND SEAL THE EXITS
she can REMOVE THE TUSKS AND TRUNK FROM AN ELEPHANT AND RESTORE THEM
she can MAKE A KING SPEECHLESS AND RESTORE HIS SPEECH
she can GENERATE DEMONS AND COMPLETE DEMONS
she can END DROUGHT AND HEAL ILLNESS
she can SUBDUE LIONS AND TIGERS AND BRING THEM TO FAITH
she can REMOVE ARMS AND LEGS FROM SOLDIERS AND RESTORE THEM
she knows ALL LANGUAGES AND ALL DOCTRINES
she can EAT ENDLESSLY AND DRY UP WELL SPRINGS AND RESTORE THEM
she can CUT OFF HER HEAD AND FLY THROUGH THE AIR AND RESTORE IT
she can MOVE A BUFFALO AND HER CALF BACK TO THEIR HOME
she is SAFE FROM ONE HUNDRED THOUSAND BLOWS WITH CUDGEL AND ARROW
she can TURN AROUND ARROWS IN FULL FLIGHT
she can TURN INTO AN OLD WOMAN AND BACK AGAIN
she can SEE THINGS ANYWHERE IN THE WORLD
she knows ALL FUTURE AND ALL PAST EVENTS
she meditates FOR DAYS ON END WITHOUT SLEEP OR DRINK OR FOOD
she can HOLD SEVEN HUNDRED UMBRELLAS ABOVE HER WITHOUT TOUCHING THEM
she can RAISE THE DEAD AND RESTORE THEM TO DEATH
she can BE IN SEVERAL PLACES AT ONCE
she can TRAVEL INSTANTANEOUSLY FROM ONE PLACE TO ANOTHER
she can MAKE SMALL THINGS ENORMOUS AND ENORMOUS THINGS SMALL
she can MAKE DEVOTIONAL IMAGES CRUMBLE AND RESTORE THEM
she can CARRY A TEMPLE ON HER BACK
she can CLIMB ENDLESS STAIRS AND OTHERS CANNOT FOLLOW HER
she fits THOUSANDS OF PEOPLE INTO A TINY CORNER OF A CAVE OR HOUSE
she disappears AND APPEARS AT WILL
she conquers DEATH
she eats CORPSES URINE EXCREMENT SEMEN MENSTRUAL BLOOD
her slightest MOVEMENT TRANSFORMS WORLDS
her dance CREATES AND ANNIHILATES WORLD
she loosens BOUND ANIMALS AND RELEASES THEM
she can WALK ON WATER AND WALK THROUGH FLAMES
she can CAUSE THE EARTH TO QUAKE AND FLOWERS TO FALL LIKE RAIN
she can DISCOVER HIDDEN TREASURES
she can WALK THROUGH WALLS AND CLIFFS
she can SEAL CAVES AND CREATE GREAT HALLS WITHIN THEM
she can MAKE HERSELF INVISIBLE AND MAKE HERSELF VISIBLE AGAIN
she can CREATE OVERWHELMING TEMPESTS
she can SUBDUE SNAKES AND OTHER WILD ANIMALS
she can SING PERFECT SONGS OF HER OWN DEVISING
she can ALLEVIATE THE SUFFERINGS OF THE ELDERLY
she can ALLEVIATE THE SUFFERINGS OF THE POOR
she can SCORCH CLOTHES AND RESTORE THEM
she can READ MINDS CLOSE BY AND AT A DISTANCE
she can EAT ANY SORT OF IMPURITIES
she can LAUGH AN EIGHT FOLD LAUGHTER
she can DRAW STELES AND JEWELS FROM THE GROUND
she can ERECT VAST PALACES AT AN INSTANT
she extracts POISON FROM WATER AND WALKS THROUGH BLAZING FLAMES
she can CHOOSE THE DATE AND TIME OF HER DEATH
she can MAKE DRUMS AND MUSICAL INSTRUMENTS TO SOUND BY THEMSELVES
her steps MEASURE GREAT OR TINY DISTANCES AT HER WILL
her gaze CAN SHATTER AND RESTORE ANYTHING
she can TRANSFORM HERSELF INTO A SKELETON AND A RAINBOW BODY
her gaze CAN OPEN CAVES IN SOLID ROCK AND SEAL THEM AGAIN
she remembers HER PAST AND FUTURE BIRTHS
she can TARRY WITH CONSORTS WITH OR WITHOUT ELABORATION
she can SELF ILLUMINATE
she can WALK AIMLESSLY DAY AND NIGHT
she can SPREAD THE SCENT OF PERFUMES IN EVERY DIRECTION
she can SIT LIE OR WALK IN MID AIR
she can WEAR APRONS OF BONES
she is FLEET FOOTED
she changes THE COLOR OF HER BODY AT WILL

what remains (2007, 19.7MB, 1:26 min.)
We need no excuse here to feature more of Alan Sondheim's singular & remarkable oeuvre.
This one caused a bit of a debate on Netbehaviour in 2007 -some baulked, fearing it to be images
of rending, tearing of the body. Alan says not at all, it's tantric/ecstatic.
The singer is Alan's wife Azure Carter.
When he originally posted it, it came with this poem (a sonnet?):

what remains
because of the faces and powers among our second lives
and third and others in-between the others; because of
swollen faces thinned back to pages bones and shadowed flesh
that nothing stays what was simple and illusion
and then poetics rounds and fills the world
among lost pages and inscriptions freed
from every symbol and symbols freed and world;
the less are said the farther truth transcends
because of truths and songs and lights and place
where bodies turn; because of bodies churned and stretched
among beams of those lights and those songs; those truths
nothing stays back nothing; valleys fill with jostled things
and things churn symbols; the world
fills silence; skies get dark kiss; welkin

Beauty (2007, 11.4MB, 1:04 min.)

Romania (2007, 19MB, 2:01 min.)
What to say, we've said it all, again & again, Sondheim's
movies are a unique & indispensable body of work.
Specifically, anyone working in video on the net who
doesn't know them is navigating blind.
For a free masterclass hop over to his site & work your
way through all the stuff with .mov or .mp4 extensions.
( I mean, don't confine yourself to the movies but this
is dvblog)
You won't have wasted your time.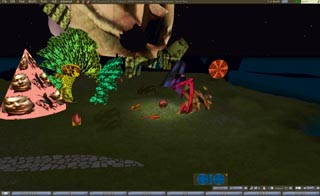 After the Fall (2011, 44 MB, 1:01 min)

Antenna (2011, 65 MB, 57 secs)
Two very different and very beautiful movies from Alan Sondheim.

Over The Edge (2010, 49MB, 1:37 min)
Alan Dojoji Pushes Fau Ferdinand in the Water because
She's not Paying Him any ATTENTION!

so the story will be about I'm trying DESPERATELY TO GET YOUR ATTENTION,
but you're ignoring me because you're away or sleeping or not watching the
terrific goings-on in OpenSim so I sneak up on you (because you're not
looking) and push you into the water which is very difficult because
pushing avatars requires the greatest skill, making sure that the pusher
is right behind the pushee, otherwise the pushee escapes, so you're pushed
into the water and just as you're falling you wake up and type "UOY" which
can only mean it's a backwards world, and then we're both in the water and
I'm dancing furiously and AGAIN YOU'RE PAYING NO ATTENTION!

Alan Sondheim

treee (2006, 2.28MB, 1:03 min)

treees 3 (2006, 5.86MB, 38 sec)

treees 8 (2006, 9.15MB, 58 sec)
"similar to a scanning electron microscope, two images of a moving tree
with enormous detail were stitched together, warped, merged, and
analyzed at every stage. the result is a planetary configuration; one can travel
for at least an hour or two through the detailing. at times threads or
tubes appear; at times there are planes, sharpened edges, odd holes and
gaps. a tetrahedral mapping was employed.
it is this acute exploration of acute angles of inner worlds that
fascinates me. the mp4 file is small and an enormous amount of detail
is lost, but you get the idea. there are videos as well of course.
here is the resurrection of encapsulated movement-into-landscape of a
five-story tree outside the virtual environments laboratory at west
virginia"

restart (2006, 9KB, 4 min. loop)
We're Alan Sondheim fans here at dvblog.
When so much work on the web is banal & lacking in ambition
he is an antidote, a tonic, a reason to hope.
His restless energy & intelligence transmute everything
he engages with into art (remember Picasso & those handlebars?)
Those living in the Santa Monica area might have seen his installation
'embedded' (also including work by filmmaker Leslie Thornton)
at the Track 16 gallery in 2006.