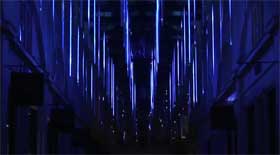 Constellation (2008, 17MB, 3 min.)
"Commissioned by Covent Garden, United Visual Artists lit up the market
halls of Covent Garden with a responsive light installation. Launched as
the flagship piece of the winter season program at Covent Garden the
installation featured 600 custom-designed mirrored LED tubes hanging
above the entire Covent Garden market space.

The volumetric arrangement of the tubes created a canvas in which three
dimensional light formations were made possible. Constellation was also
individually controllable using a custom-designed control panel, giving the
installation an intimate connection with the public."
United Visual Artists are a British-based collective whose current practice spans permanent architectural installation, live performance and responsive installation.