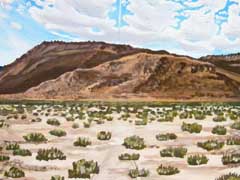 Primary and other Remote Locations (2006, 44.5MB, 3 min)
We've featured the work of Brett Stalbaum & Paula Poole here before
*****Lewis Carroll like note – when I say before I might mean after
– I can't remember whether we've reposted their other work yet –
something to look forward to perhaps!*****
a couple of times. I've been mystified in public here before (ditto)…are
the videos a work in themselves or merely the documentation of the computing/walking/painting/whatever that comprises the process?
I feel like it's the former (no justification except my bones & the fact that
these vids are both clear & totally elusive..& it makes me a candidate
for Pseud's corner but it seems to me no accident that the experience
-the way what seems initially straightforward somehow recedes –
of watching them is not unlike that of reading Emerson)
You can check out the details of the work process on the paintersflat
site but watch the video first..it's ravishing..it conjures up the richness
of the process so beautifully & excitingly & oh now I'm in a loop because
of course I don't know what the process was like because
I've only seen the videos. But they are sticky & fragrant &
evocative & funny in my head…
These folks are doing something very right.