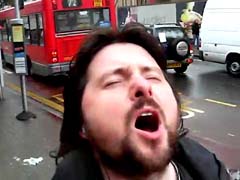 Anarchy In The UK (2007, 45.4MB, 4:44 min)
Anarchy In The UK has been a bit of a theme of late here on dvblog.
Now, from the indispensable Rupert Howe comes this breathtaking version.
Not only is it extremely funny, with an off the meter chutzpah quotient,
(witness the animal terror in the eyes of the guys on the tube towards the end)
but like a lot of Rupert's work it's a kind of contemporary London travelogue
(of the best sort: hard edged, eyes wide open truthful & hence beautiful) too.