Search results for "Lichty"

Explaining Conceptual Art to Bizarro (2012, 89MB, 1:36 min)

Danger Music #17 by Dick Higgins (2012, 19MB, 45 secs)
And to celebrate our resurrection (for which heartfelt thanks go to James Morris), two newish pieces from the redoubtable (I write so many of these things a nagging doubt enters my mind as to whether I've perhaps called Patrick redoubtable before, once, twice…more? But leave it – redoubtable he is) Patrick Lichty.
Both pieces take place in DC Universe Online, about which I know nothing so I won't even begin to show myself up by attempting to expand, and both reference recent art history – one Beuys explaining pictures to a dead hare and the other Dick Higgins's Danger Music.
Both are utterly splendid.

Blown Away(2003, 3MB, 52 secs)

Mental Profiling (2003, 7MB, 2:15min)

The New Saint of Louisiana (2003, 4MB, 41 secs)
Three more from Patrick Lichty.
Again- hard to believe these were made seven long digital years* ago.
Not a lot to add, except I approve his taste for Tuvan throat singing.
*Digital years a bit like dog years, of course.

The New Miranda (2003, 38MB, 2:17 min)

Blooper – Voodoo Chicks (200?, 1MB, 16 secs)

The Engines of Truth (2000?, 20MB, 5:08 min)
Our Patrick Lichty season resumes after quite the longest break ever,
partly because I misplaced the files he so generously gave us
in 2007.
Looking through these again it comes home very forcefully what
a significant role Lichty played in the development of a new language of art video,
one contemporaneous with the birth pangs and development of net art & later to
feed centrally into online art practice.
The pieces still impress as hugely imaginative and sometimes challenging
and apart from their physical size and compression don't appear time worn
at all. In fact, in many ways they seem amazingly prescient, perhaps
even ahead of their time.
More soon.

Ritornello (2003, 700k, 25 sec.)
There are just points in which a person has to admit the panic moment.
The point in which the suspersonic tidal wave is headed at you as you
stand on Rockaway,
and you have simultaneous feelings of doubt or denial.
The moment comes, looping in on itself until the moment of action arrives.
Time to hang ten.

One Language, Indivisible (2003, 20.9MB, 2:52 min)

Corporate Ritual (2003, 5.4MB, 1:43 min)

America's Most Famous Mexican (2003, 9MB, 1:41 min)
'Two!' I hear you cry 'Two! – WHEN WAS ONE!?'
Well it was er..um..in April & I meant to post more
sooner only I was just plain dilatory.
Partly because the body of work Patrick has handed over
to us is simply somewhat overwhelming in volume & scope
& I'm actually a bit overawed.
So now I've grabbed the bull by the horns & am going to
post these three, which showcase Lichty the radical.
They're funny, pointed and (always a good sign with political art
IMHO) really, really weird…
[Actually, coming back to revise this post, it occurred to me
I don't think Swiftian is entirely hyperbolic]
There'll be more before too long…

a wristful of bits (2002, 6.19MB, 4:26 min)

8 bits or less (2002, 5.58MB, 4:47 min)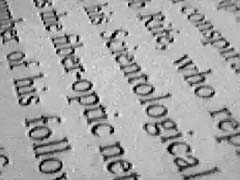 close vision (2002, 4.79MB, 3:33 min)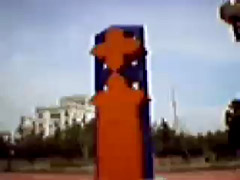 for a few bits more (2003, 6.29MB, 4:59 min)
Patrick Lichty, artist, writer, curator & wit, the man responsible
for the excellent Intelligent Agent, has donated a decade's worth
of his video work to DVblog.
We'll be showing it all over the next few months.
We start with these wonderful pieces: smart
& delirious, made mostly with images from a
Casio WQV-1 WristCam watch which is B&W with a resolution
of 100X100 pixels, 'both the embodiment of technological determinism' ,
Lichty comments, 'and its antithesis.'.
I mostly have the urge to run fast from stuff which is fashionably
self referentially about the technological, often so worthy but oh-so-dull.
Thing with Lichty is, dull it is so not, rather, simultaneously
light (in a good sense..not dumbed down & simplistic,
but playful & engaging) possessed of genuine humor,
& just chock full of ideas & joyous invention.