Search results for "picot"

Job's Comforters (2013, 3MB, 7:00 min)
Those who associate Edward Picot solely with his marvellous Dr Hairy series,
wickedly funny and pointed satire in the kind of lo-fi/hand made tradition
that comes down from Postgate and Firmin might be quite taken
aback by this. You have to watch the whole thing. Until shortly before the
end you seem to be simply watching a poetic & minimal retelling of a bible
story, then the whole thing suddenly lurches several gears into the kind of
territory that one associates more with Tarr and Kasznahorkai at their most
bleak and disturbing (and somehow their most bracing and exhilarating too).
It's a punch to the solar plexus of a piece and simply magnificent.
I don't know where its bleakness comes from or takes us but what it does
en route burns into you.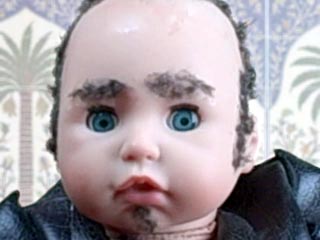 Gilgamesh, Part #1 (2012, 214MB, 5:03 min)

Beyond Spectacle (2012, 214MB, 5:03 min)

About DVblog -
Doron started DVblog in summer 2005 and Michael started posting about a month after.
A number of people have contributed hugely along the way – notably Mica Scalin, Brittany
Shoot and Brian Gibson.
We've been vandalised a couple of times (hence postings now dating back only to late 2006,
although the vast majority of what was ever posted is back up now) but we've also had some really
delightful feedback from people who've felt what we've done is worthwhile.
Early on we decided that anything we posted would actually live on our server and this means we have assembled an extraordinary and unique archive of the birth and infancy of art video specifically created for or focussed upon the network.
One day we will donate this to an institution that will preserve it and continue to make it available for both joy and study.
When we started Quicktime was the only serious way for anyone to post moving image work to the net. Although it remains the backbone of virtually all digital moving image activity, as a mode of delivery it has now been almost completely superseded by streaming video. This has two implications – one being that the casual viewer has become less patient and is much more likely to go to YouTube or similar, where there's no significant wait and where quality has improved immeasurably. The other is that fewer and fewer artists are posting their work in QuickTime format – so our old methodology of accepting submitted work but also scouring the net for interesting stuff is at least 50% outmoded.
Finally we want to say – it has been hard work and for no material reward. Indeed, not only have we never made a dime out of DVblog, it has cost us both cash and a great deal of time to sustain. Not that we are complaining – we hope we provided a service to people and certainly we learned a great deal and derived a great deal of pleasure from everything we posted. We made some good and lasting friendships too.
For the reasons listed above we are going to stop posting regularly from today. We finish with pieces from two artists who, in very different ways, have given us a great deal of pleasure – Annie Abrahams and Edward Picot.
Annie, with a record of a networked performance in November of 2012 and Edward with a splendidly mad take on the tale of Gilgamesh, featuring characters from his Dr Hairy series.
We're not proposing to shut up shop entirely – we will continue post such work in QuickTime format which is submitted to us and which we like. We still think there is something special about the amount of control over quality posting an actual QT file gives and we're very interested in continuing to write short, but we hope thoughtful and helpful, texts about these. Please, therefore, don't be shy abuot sending us stuff!
We'd like to thank all who have contributed work over the past seven and a half years and, of course, those who have taken an interest both in the work and what we've had to say about it.
Finally we wish readers and contributors alike a happy, productive and thoughtful 2013.
Michael Szpakowski & Doron Golan, 1st Jan 2013.

Mentoring (2012, 255MB, 16:01 min)
Final one in the present series of Edward Picot's Dr Hairy videos.
Great stuff, which we've enjoyed a great deal.
We eagerly anticipate series #2, perhaps we could suggest The Return of Dr Hairy,
Dr Hairy's Repeat Prescription or The Beard is Back.
Glad to see he'll be putting in an artworld appearance at
the new Furtherfield Gallery in Finsbury Park, London.
Not to be missed if you're in the area during the run of the show (not only
because Dr H is great but also because Furtherfield haven't put together
a remotely dull show yet).

Child Safety (2011, 189MB, 16:19 min)
Latest adventures of Edward Picot's splendid Dr Hairy.

Appraisal Part #3 (2011, 159MB, 9:47 min)

Appraisal Part #4 (2011, 143MB, 9:40 min)
Latest two in Edward Picot's wonderful Dr Hairy series.

Appraisal Part #1 (2011, 232MB, 10:14 min)

Appraisal Part #2 (2011, 151MB, 9:40 min)
Edward Picot's bizarre and wonderful Dr Hairy series, the adventures of a hirsute
UK general practitioner coping with NHS (the NHS we love, don't misunderstand us)
bureaucracy, continues with these first two episodes of Appraisal.
Picot's comic timing just gets better & better (& occasionally strays into some
almost Beckettian territory) – it's fascinating to watch a long
project like this unfold. If you missed the preceding episodes they're here (as are some other
gems, some equally amusing, some altogether different in style and mood)

Things That Flow (2011, 175 MB, 4:00 min)
Doing what it says on the can, and doing it elegantly
and with understatement and grace, a new pastoral (although
that's not quite the word because the urban, or at least the mechanical,
usually intrudes into the idyll in some way) from Edward Picot.

Frank Talking #3 (2010, 278MB, 10:01 min)
Latest instalment in Edward Picot's Dr Hairy saga which feels like
a weird amalgam of Oliver Postgate, soap and Carry On.
It's interesting to observe how bold, deft & convincing Picot has become with the lo-fi
techniques he deploys in these and, furthermore, how engaging the actual
narrative is.
Great stuff!

Black or White, the Gravy Version (2010, 58 MB, 2:38 min.)
An outing, or perhaps more a forced march, for Michael Jackson's
Black or White refracted through the prism of English
whimsy that is Edward Picot (well, on occasion; fans will know
his range is much, much broader) with co-conspirator Hoola Hoop Kid.
Never understood the Jackson appeal myself but this I like a great deal.
Wish, though, they'd called it 'Black or White, the Gravy Mix'.

Frank Talking #1 (2010, 157 MB, 9:59 min.)

Frank Talking #2 (2010, 247 MB, 9:51 min.)
Two more episodes in Edward Picot's satirical but affectionate
insider view of the British NHS.