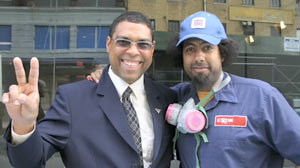 Tribute to Reggie (excerpt) (2007, 52MB, 2:51 min.)
Vintage Yes Men from 2007, posing as representatives of Exxon-Mobil
and the National Petroleum Council in Calgary, Alberta, to deliver a keynote
speech presenting a new product – Vivoleum, a new fuel made from the
deceased bodies of human climate-change casualties.
'Tribute to Reggie" was a promo video for the event.